Hassle Free Return Policy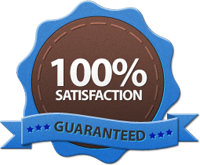 Our Hassle-Free Return Policy

If you don't like an item, simply return it. No restocking fee. It's your choice: 100% refund, 100% replacement, 100% credit or 100% exchange.
100% Refund -

Return any item for a 100% refund--a money-back, satisfaction guarantee.

100% Replacement -

If for any reason you receive a damaged item, please contact us so we can promptly send you a replacement.

100% Credit -

Many customers choose the convenience of returning the item for a credit when no exchange or replacement is needed. You will receive a 100% credit on your account for the cost of the item.

100% Exchange -

Simply return the item and choose another. You will either receive a credit or be asked to pay the difference.
Tooltron Industries, Inc. is not responsible for postage on returned items. In the event that you return a large quantity of items for which you have received assortable or quantity discount pricing, we reserve the right to recalculate your order total based on the actual items you kept.
Call us at 830-249-8277 for help with your product returns.